Wild and romantic, the chaos of Piquet is undoubtedly the most picturesque site in the Yon valley.
Located in Apron in a green setting, this site where the Yon river meanders has not finished surprising you. Let yourself be guided by its legends for walks unforgettable…
From the XNUMXth century, thanks to the flow and the steep slope of the Yon, around thirty mills hydraulics have been installed in the Valley. The Piquet spinning mill, a former fulling mill, is a place steeped in history and know-how.
The short history of the Piquet spinning mill
On January 20, 1861, Félix Grimaud and Léon Beneteau asked the prefect of the Vendée for permission to build this spinning mill whose objective was to produce wool for the manufacture of sheets. It replaced the Renon mill, which was no longer in service at that time.
The current drives a paddle wheel 5 meters in diameter by 2 meters wide, with a maximum power of 25 horsepower. A 5-horsepower steam engine takes over in case of drought.
In the 1870s, the spinning mill ceased all activity. The materials from its demolition would then have been used to build the Château de Rosnay, located a few kilometers away.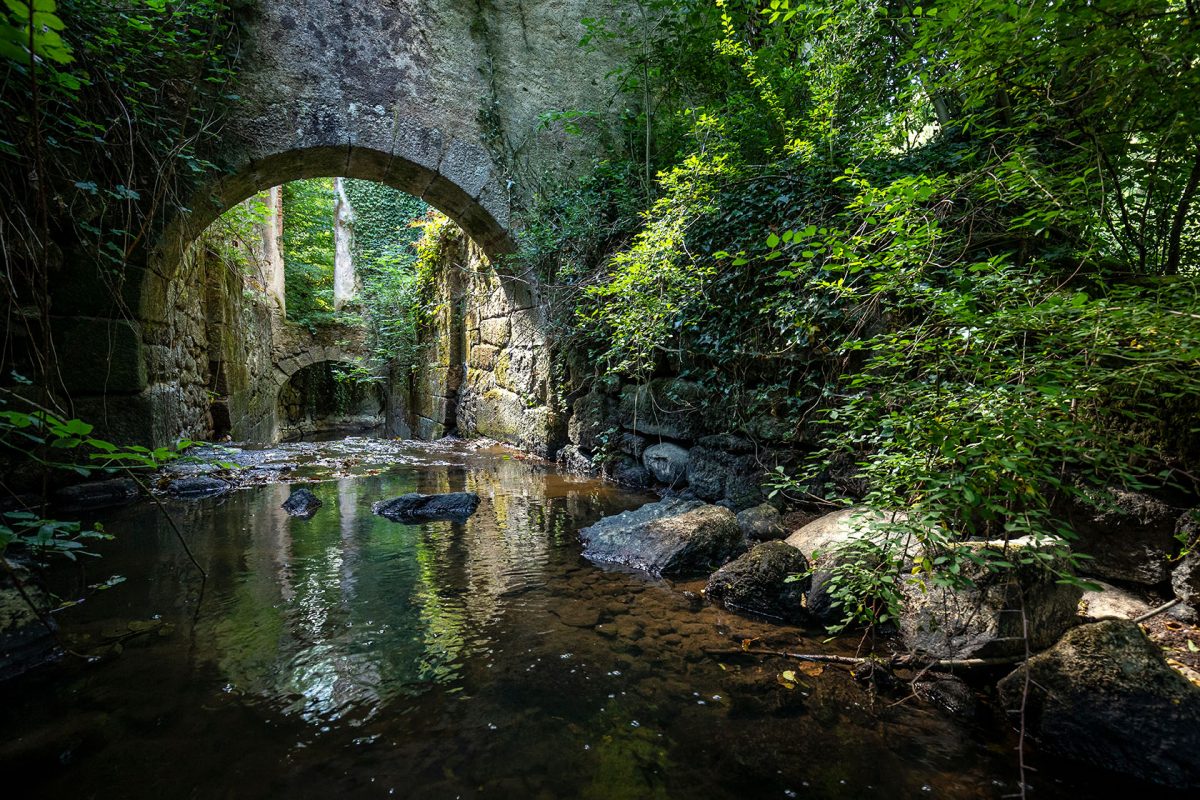 The ruins of this old spinning mill are still visible today.
---
In this bucolic setting, the course of the Yon accelerates and gives birth to the famous " Piquet chaos »
What is a granitic chaos and how did it form?
The word "chaos" comes from the Latin chaos, itself from ancient Greek khaos. It means a "state of upheaval of many disparate elements". The granitic chaos is the consequence of the erosion of the rock by water. Indeed, the latter "digs" cracks in the granite blocks, which, subjected to changes in temperature, plants or the repetition of a strong current, break into blocks. These rocks are then shaped by water and sand, to give them these shapes so characteristic of Piquet's chaos.
Piquet: a place of legends and history
Piquet's chaos is the source of many legends. Gargantua, hero of Rabelais and Lucifer would have clashed there in a game of shuffleboard. The "chaos" and the pots of the devil would be the stigmata. The Pierre Nauline, the Pierre aux Fées give pride of place to legendary stories populated by elves and leprechauns. But halfway between history and legends, Saint Yon, a XNUMXrd century priest, has also left his mark in the historic valley: the cave of Saint Yon, near the Lieu-dit Le Furet does indeed exist!
---